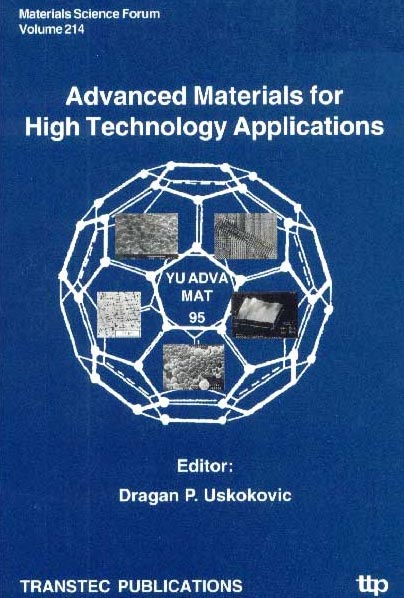 Title: Advanced Materials for High Technology Applications: Proceedings of the First Yugoslavian Advanced Materials Conference (YU ADVA MAT 95), held at Herceg - Novi, Yugoslavia, September 1995
Editor:
Dragan P. Uskoković
Series:
Materials Science Forum Vol. 214
Publication place: Zürich
Publisher: Trans Tech Publications Ltd.
Publication date: 1996
Language: English
Pages: 288 p.
Format: 24 cm
ISBN 978-0-87849-731-7
All papers are available online at www.scientific.net
Table of contents
Perturbed Angular Correlation Technique in Materials Science
S. Koički, M. Manasijević
Raman Scattering in Materials Science
Zoran V. Popović
Application of Electron Microscopy in Studies of Phase Transformations and Other Phenomena in Materials
Velimir Radmilović
Electronic and Optical Properties of Semiconductor Quantum Wells and Superlattices
D. Tjapkin, V. Milanović, Z. Ikonić, B. Radenković
Characterization of Metal Iodide Quantum Dots
J.M. Nedeljković, M.I. Čomor, Z.V. Šaponjic, T. Rajh, O.I. Mićić
Fullerene C60: Properties and Possible Applications
Dj. Koruga, L. Matija, N. Mišic, P. Rakin
Epitaxial Growth of Hg1-xCdxTe
Z.G. Đurić, V.B. Jović
Recent Advances in Thick Films
Obrad S. Aleksić
Coherent Optical Fiber Bundles Production
R. Aleksić, R.M. Jančić
Synthesis of New Materials: Physicochemical Aspects
M.V. Šušic
High Temperature Phase Transformations of Cation Exchanged Zeolites: A New Route for Synthesis of Aluminosilicate Materials
V. Dondur, N. Petranović, R. Dimitrijevic
Heteropolyacids as Protonic Conductors
M. Davidović, U.B. Mioč
Materials Science and Heterogeneous Catalysis
P. Putanov
Some Physicochemical Aspects of Oxidative Catalysis on Solid Oxides
A. Terlecki-Baričević
Molecular Engineering of Polymer Materials
M.B. Plavšić
Some Recent Advances in the Silicon Containing Polymers
P.R. Dvornić
Structure and Properties of Conducting Polymers
D. Raković
Synthesis and Electrochemical Properties of Polypyrrole
R. Stankovic, V. Laninović, M. Vojnović, O. Pavlović, N. Krstajić, S.M. Jovanovic
Targeted Porous Structure of Macroporous Copolymers Based on Glycidyl Methacrylate
S.M. Jovanovic, A. Nastasović, N.N. Jovanovic, K. Jeremic
Atomic Collision on Surfaces and Material Implementation
T. Nenadović
Chemical Vapour Deposition of Diamond
S.N. Marinkovic
Plasma Deposition of Hard Coatings - Duplex Treatment
M. Zlatanović, A. Kunosić, R.B. Beloševac, N. Popović
Synthesis of Advanced Materials by Powder Processing
D. Uskoković
Colloid Particles and Advanced Materials
S.K. Milonjić
Thermal Plasma Synthesis of Ultrafine Si3N4 and SiC Ceramic Powders
P.B. Pavlovic, Ž.G. Kostić, P.Lj. Stefanović
Formation Mechanism, Morphology and Synthesis of α-Al2O3 Mullite and Cordierite Particles Obtained by the Ultrasonic Spray Pyrolysis
Dj. Janaćković, V. Jokanović, Lj. Kostic-Gvozdenovic, D. Uskoković
Nanoxide Ceramic Materials
Snezana Bošković, E. Kostic, F. Sigulinski
Mechanical Behaviour of Carbon/Epoxy Composites
M.M. Stevanović
Formation of Metallic Materials of Desired Structure and Properties by Electrochemical Deposition
A.R. Despic, Vlada D. Jović
Electrochemical Properties and Corrosion Stability of Materials
D.M. Dražić
Structure, Properties and Application of Ni3Al Aluminides
M.T. Jovanović, D. Božić, N. Ilic, M. Mitkov, M. Zdujić
Synthesis, Structure and Properties of Non-Metallic and Metallic Singlecrystals
A.V. Valčić, S. Nikolić